Consistently Recognized as a Leader in Staffing Services

Oakland University Career Fair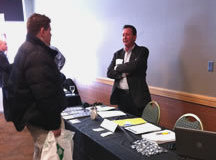 Knollenberg Career Fair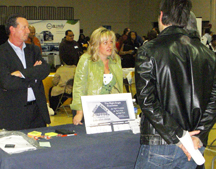 Auburn Hills Career Fair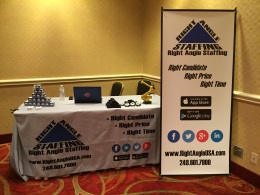 A Q&A Session With Our President, Adam Asadoorian
Right Angle Staffing, headquartered in Troy, MI, has grown from a sole proprietorship to a multi-million-dollar company that places employees globally. Right Angle has thrived because of its commitment to its employees and its focus on specific staffing needs that have included working with young, growing industries.  Right Angle Staffing is a full-service staffing supplier that places designers, engineers, assemblers, general labor employees, administrative workers and more within industries such as Automotive, Aerospace, Military, Robotics, and more.
Q: How many employees do you have? Explain your commitment to your staff.
We've employed hundreds of people. We realize that our employees are our No. 1 asset.  In doing so, our employee compensation level is second to none.  We have invested heavily in our employees to ensure that we have the most qualified, experienced staff available. We offer very generous benefit plans, employee cell phones, laptops, corporate credit cards, flexible spending accounts and more.  This investment in our employees is a big reason we have been able to grow successfully with little turnover.
Q: How was your business funded?
Right Angle Staffing started as a self-funded business. As our client base grew, we obtained traditional funding through banking relationships that have allowed us to continue growing and strengthen our brand.  Right Angle is a privately held company with zero debt.
Q: Who is your target market and how do you reach them? How do your customers find you?
We have clients in such industries as automotive, aerospace, military, robotics and more. We reach these clients through networking, referrals, sponsorship and corporate research.  Our clients, current and new, also find us easily on the Internet, all social media and our free iPhone / android phone app, just search Right Angle Staffing.
 Q: What is your unique selling proposition that sets you apart from your competitors?
We use a few simple principles that set us apart from our competition. We send two to three qualified candidates per job order.  We send our candidates usually within 24 to 48 hours of our clients' request.  And our candidates have been pre-screened to exceed our client's expectations in qualification, skills and pricing.  At Right Angle, our motto is, "Right Candidate, Right Price, Right Time", we strive to provide comprehensive customer satisfaction.
Q: Given the local economy, is the staffing industry a profitable business now? Is your business somewhat sheltered from economic struggles?
Yes, the staffing industry is profitable. You must be willing to constantly change, adapt and grow if you intend to compete in this global economy.
Q: What challenges have you faced?
Challenges we face include requests from our clients to assist them in more efficient, cost-effective and streamlined processes. They are constantly asking us to help them increase their bottom line and make them a better, stronger organization.
Q: What is your biggest opportunity for future corporate growth?
We look to expand and open new doors within our current client base, whether in different commodities at the same location, or a different facility in other parts of the country. We are also looking into establishing "satellite" offices throughout the U.S., expanding our current headquarters into a larger facility and hiring new sales and administrative team members.
 Q: How do you price your services? Does it differ from some of your competitors?
In staffing, pricing is based on the same formula. What sets us apart from our competition is that we have streamlined our business costs to a level where we are the industry leader in pricing, and we pass the cost savings on to our clients in return for repeat business.  We have saved our clients millions in contract staffing and get thanks, as well as referrals, because of it. We are not looking to score big with one employee.  We are looking for long-term business and want to have a team of employees working for our clients.
Q: What are some misconceptions about the staffing industry?
One is that there is a difference between being a "contract" and "direct" employee. Employers don't differentiate between contractors and regular staff today. Everyone attends meetings, updates, training, etc. The entire system now is based on the "team" approach. Everyone has input, everyone is involved, everyone is productive and everyone feels like they have contributed.  Another common misconception is the value of a staffing supplier.  Our value is that we make your job easier.  We take the headache out of finding the right candidate. We are responsible for advertising, screening, interviewing, hiring, paperwork, benefits, retirement, matching 401(k), performance reviews and termination requirements.  All these things cost money to maintain and monitor.  We undertake it all, allowing our clients to focus on their core business.
Q: Do you plan to keep your business in Michigan and Oakland County?
Right Angle has been, and will continue to be headquartered in Michigan, and Troy is an ideal location. We have established strong business relationships and are not going to abandon our roots.